February 10, 2017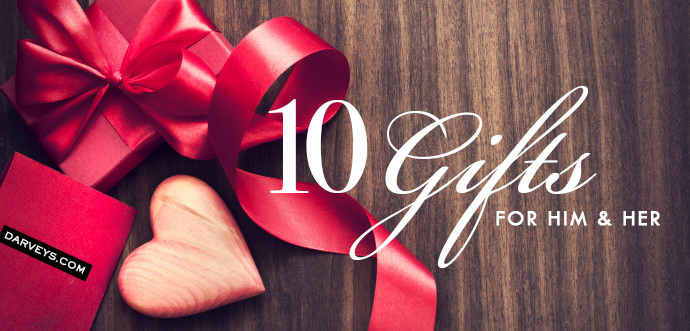 Valentine's is considered as the most romantic day of the year! And what a better way to express your love than gifting something to your loved one which they can cherish for a lifetime! A timeless gift can be a constant reminder of what they mean to you.
So, shower them with all your love and these presents to make them feel extra special this day
Here are 10 Gifts listed down below that you can purchase.
GIFTS FOR HIM!
This EMPORIO ARMANI Gnawed Blue Long Sleeve Shirt is a perfect addition in your formal wardrobe and is available for ₹12,950. The classic color makes it a must have!

Style Tip: Pair it with this Hugo Boss Silk tie to complete the look.

A trendy scarf is a timeless accessory to adorn like this VERSACE Blue Logo Detail Scarf available for ₹14,450.
Style Tip: This scarf looks the best with a dark colored t-shirt like this Calvin Klein black pullover.
What a better gift for someone who likes to keep things organized than this ORIGINAL PENGUIN Black Bifold Wallet & Keychain available for ₹4,450.
Style Tip: Complete the combo with this Dolce & Gabbana black keyholder.
Fasten your bottoms in style with GUCCI Black Double G Buckle Belt available for ₹21,950.
Style Tip: Pair it with this Calvin Klein charcoal pants to master the formal look.
There can be no better gift than your time. Buy this ARMANI EXCHANGE Brown Leather Strap Watch available for ₹8,950 for someone who deserves your time.
Style Tip: If he loves to keep things organized, you can't leave behind this Gucci leather case.
GIFTS FOR HER!
If she loves layering up, this ARMANI JEANS Red Logo Pattern Scarf is a must have! It is available for ₹7,450.
Style Tip: Layer it up with this Ralph Lauren black blouse for work or casual outings.
A handbag is a girl's best friend right? Gift this SALVATORE FERRAGAMO Pink Lisetta Shoulder Bag and see the smile on her face. It is available for ₹19,950.
Style Tip: Pair this bag with this Moschino black maxi dress for a perfect evening look.
For someone who is worth of all your time! Buy DKNY Black Stanhope Dial Leather Watch available for ₹8,950.
Style Tip: Complete the combo with this Kate Spade multi rabbit case.
Hold your look firmly in place with this MICHAEL KORS Inlay MK Buckle Luggage Belt available for ₹5,450.
Style Tip: It will be the perfect companion of this Juicy Couture blue skinny jeans.
Because it's the little things that matter the most! This CALVIN KLEIN Rum Saffiano Zip Wallet goes with every outfit and is so elegant! It is available for ₹8,450.
Style Tip: This Michael Kors pink tassel key fob will be the pretty finishing touch to this wallet.