January 17, 2022
Even though it's still early in the season for your heaviest coats and chunkiest heels, you may start daydreaming about all the lovely winter outfit ideas you'll be putting together in just a few weeks. Fortunately, there are ample street-style inspirations at hand currently (hi, Fashion Month). So keep these outfit combinations in mind if you're trying to solve one of the biggest winter-style conundrums: how to serve a look while it's freezing outdoors.
A browse through this article will reveal how many Fall's must-have pieces are included (Chelsea boots! Shackets! Teddy bear coats! ), implying that whatever's on your wish list right now—or currently in your closet—can be effortlessly layered and styled for the time being. Here are seven no-fail winter wardrobe ideas to help you master the art of dressing for the cold.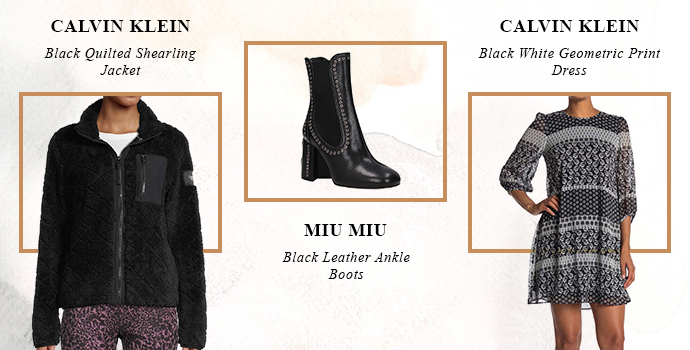 Everything about this outfit is excellent for snowy or bluebird days, from the shearling jacket to the groovy print dress and leather boots. The best part about it? It's also super simple to replicate, requiring only three crucial pieces: a warm coat, a midi dress, and weather-resistant boots.
Check out this black quilted shearling jacket by Calvin Klein, this black & white geometric print dress by Calvin Klein, and these black leather ankle boots by Miu Miu.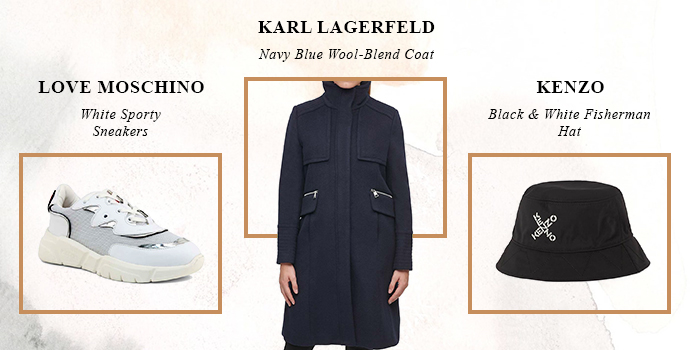 Thick woolen jackets are a winter classic, but when paired with street-smart essentials like clean white sneakers and a dad cap, they feel unmistakably on-trend (ideal for keeping bedhead under wraps). Whether you're going for a cup of coffee run in the rain, or quietly browsing stalls at the flea market, this timeless design lets you move freely and quickly.
Check out this navy blue wool-blend coat by Karl Lagerfeld, this black & white fisherman hat by Kenzo, and these white sporty sneakers by Love Moschino.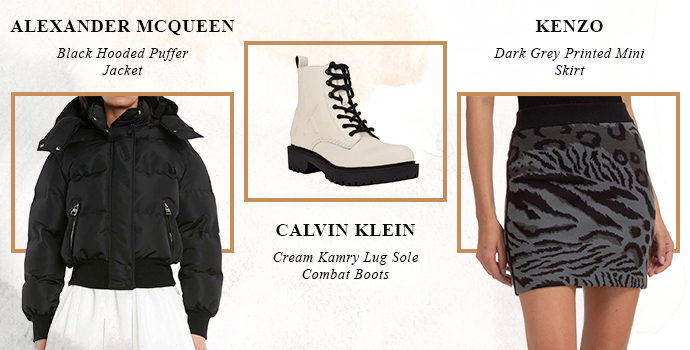 This outfit is all about contrast, with its puffy coat, combat boots, miniskirt, and a little bag. The down jacket provides immediate warmth, while the lug sole boots add a little chunk to your ensemble. If you're not bothered by cold, or even getting in and out of a car between destinations, go bare-legged. If you want to wear this ensemble in the dead of winter, put on some tights.
Take a look at this black hooded puffer jacket by Alexander McQueen, this dark grey printed skirt by Kenzo, and these cream kamry lug sole combat boots by Calvin Klein.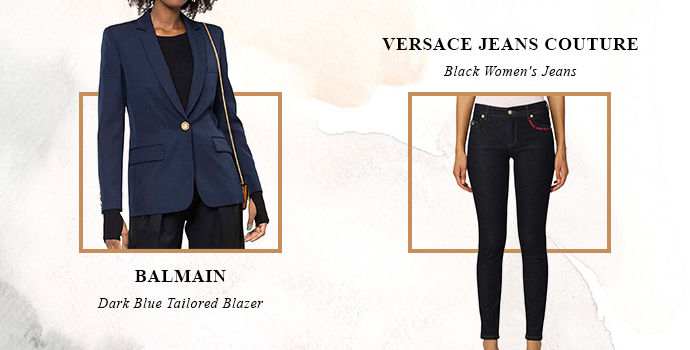 If you don't want to, there's no need to wrap yourself in a massive down coat. This shearling jacket and blazer combo is a total layering masterclass—and it's easy to recreate with similar pieces you probably already own (or plan to rebuy for the fall collection). To balance off the tonal vibes, wear with similar-coloured pants or skirts, or go with your favorite pair of jeans.
Balmain's dark blue tailored blazer and this black women's jeans by Versace Jeans Couture make for a flawless combination.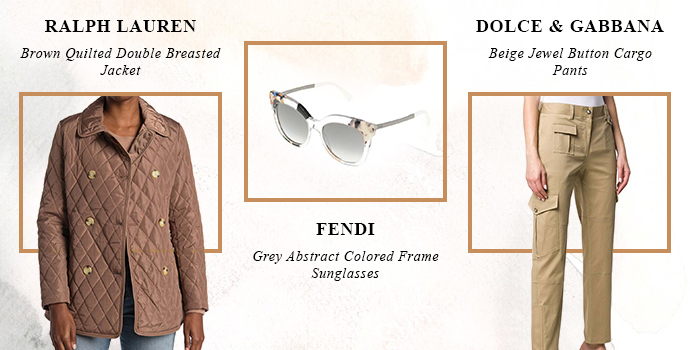 Quilted jackets aren't new for fall, however, the baggy silhouette sweeping the streets demonstrates that thanks to the cushioned insulation and many layering options, they can be a great alternative to puffers for winter. The cool-girl-approved way to wear this top is with equally spacious cargo trousers, but depending on your mood or plans, you can easily switch the bottoms out for leggings or sweatpants. For splashing in puddles, chunky shoes provide a welcome boost in height. Check out this brown quilted double-breasted jacket by Ralph Lauren, these beige jewel button Cargo pants by Dolce & Gabbana, and these silver blue geometric sunglasses by Moschino.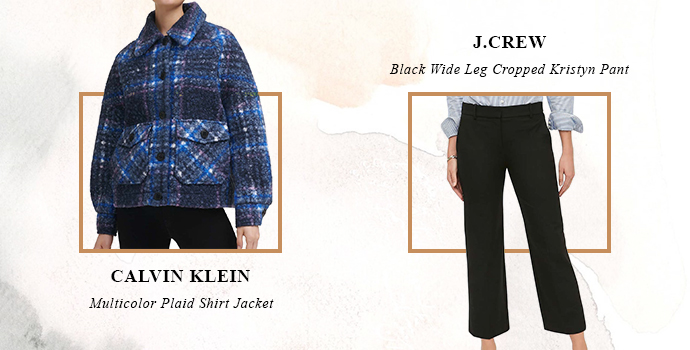 Plaid shackets are a cool-girl fall staple, but they also check out the boxes for winter clothing. Keep yours zipped up for maximum warmth and effectively conceal any base layers underneath. (Good morning, heat-tech bodysuit.) When the weather doesn't force you to wear all of your cold-weather gear at once, a knit balaclava, which we may or may not have to crown as the must-have accessory for winter, is the perfect finishing touch.
This multicolor plaid shirt jacket by Calvin Klein and these black wide-leg cropped Kristyn pants by J. Crew will look perfect together.
Boots & Coats: For Effortless Chic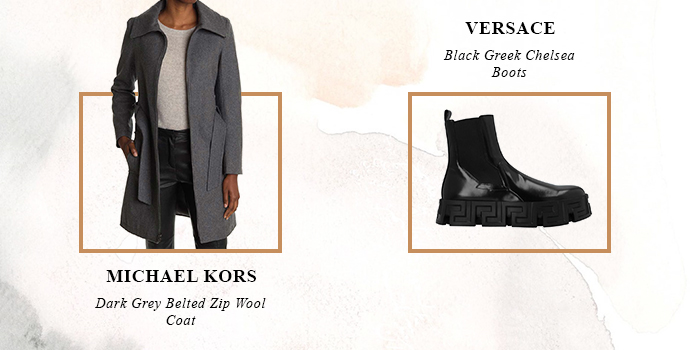 While many A-listers love the duster coat for its dramatic, billowing silhouette, it's also a utilitarian piece of clothing for remaining warm during the winter months. For a polished look, while stepping on fallen acorns on a cold morning walk, we enjoy it coupled with a matching outfit and weather-resistant boots.
Check out this dark grey belted zip wool coat by Michael Kors and these black greek Chelsea boots by Versace for a perfect style statement.
Make the most of these tips and tricks in the upcoming festive season. Most of these will definitely make you stand out for the New Year and Christmas celebrations with minimal effort. Of course, you can use these prevailing and invincible latest trends to experiment with your looks. Use the pieces you own and shop the ones you need to look your best at all times.
Stay tuned for more amazing and latest fashion ques!