August 30, 2023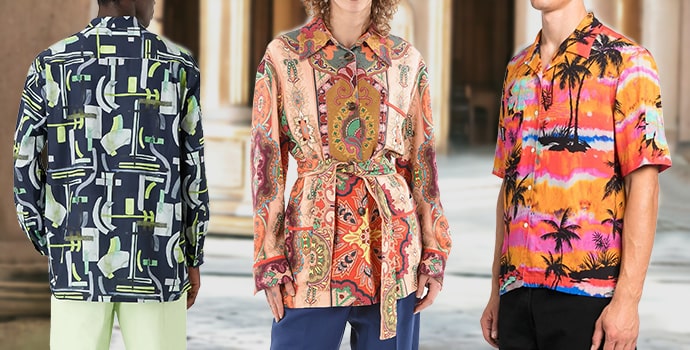 As the summer sun emerges in full glory, it's time to refresh our wardrobes with outfits that perfectly balance style and comfort. One timeless and versatile pairing that never goes out of fashion is the classic combination of blue jeans and a well-matched shirt.
Whether you're aiming for a laid-back weekend look or gearing up for a stylish evening out, we've got you covered! The art of selecting the right shirt to complement your blue jeans is a skill worth mastering.
In this blog, we will discover the best matching shirts for blue jeans. From classic white shirts that exude casual elegance to vibrant prints that capture the essence of summer, we'll explore a variety of options to suit every taste and occasion.
Get ready to discover the secrets of mastering this classic pairing and elevating your summer fashion game. Let's explore the array of matching shirts for blue jeans for men & women that will have you striding through the season with confidence and flair!
1. Embrace the Effortless White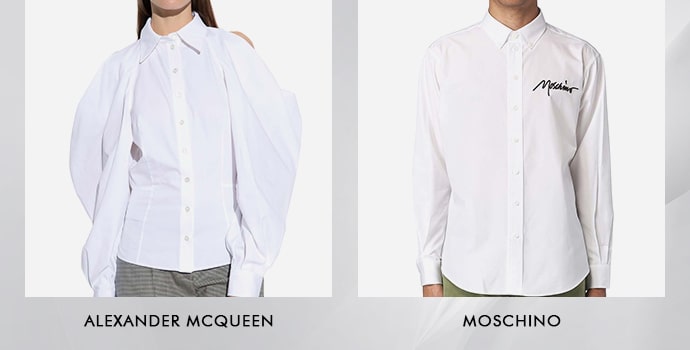 Nothing exudes summer ease like a crisp white shirt paired with blue jeans. This iconic combination is the epitome of simplicity that never fails to make a statement.
Whether you opt for a tailored button-down or a relaxed linen shirt, the clean white hue brings a touch of sophistication to your ensemble while keeping you cool in the heat. Roll up your sleeves and leave a few buttons undone for a relaxed yet polished look that's perfect for brunches, casual outings, or strolls by the beach.
Let your style shine effortlessly, reflecting the essence of summer's laid-back charm. This combination is more than just an outfit; it's a canvas for you to express your flair while capturing the enchanting spirit of the season.
2. Play with Patterns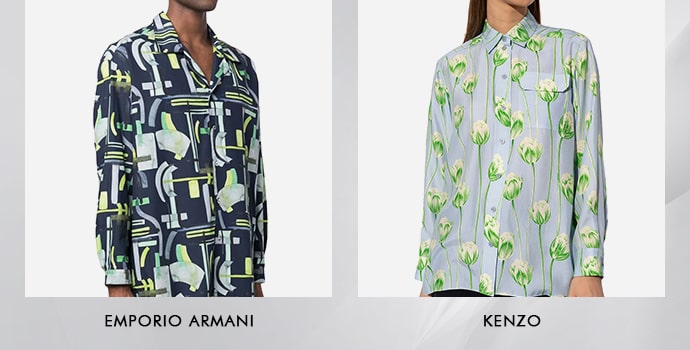 Summer is the season to experiment with playful patterns that breathe life into your outfits. Pair your blue jeans with a patterned shirt – think florals, stripes, or even gingham. Choose a color that complements the shades of your denim while keeping the patterns balanced.
Mixing patterns can be adventurous, but remember to stick to a coherent color palette to avoid overwhelming the ensemble. Embrace the spontaneity of summer by accessorizing with a woven belt or canvas sneakers, adding an extra layer of personality to your patterned pairing.
Remember, patterns offer a dynamic way to express your individuality. So, make heads turn effortlessly and enhance your summer fashion statement with this timeless combination. 
You can discover the finest selection of patterned shirts from Balmain, Off-White, and several other luxury brands.
3. Chambray Charm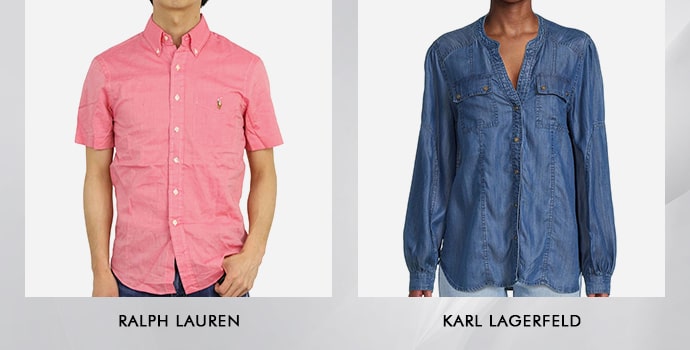 Amid the scorching days of summer, the quest for the perfect outfit to compliment your favorite blue jeans ends with the timeless elegance of chambray. This lightweight fabric seamlessly blends comfort and style, offering a refreshing twist to your seasonal wardrobe.
With its denim-like appearance and breathable texture, chambray shirts exude a charm that effortlessly matches the laid-back vibe of blue jeans. Their versatility knows no bounds – whether knotted for a casual beach day or tucked in for a more refined look.
The subtle variations in hues between chambray and denim create a visually pleasing contrast that embodies effortless summer chic. Embrace the chambray charm and let your blue jeans find their perfect partner for the sun-soaked days ahead.
4. Pops of Color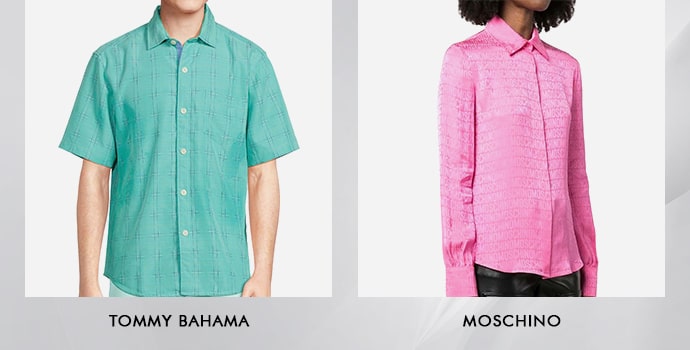 Infuse vibrant energy into your summer attire by adding a pop of color to your ensemble. When it comes to pairing shirts with blue jeans, consider these ingenious ways to infuse vibrancy.
Opt for a crisp white shirt to create a classic base, then introduce a burst of color with accessories like a vibrant belt or colorful sneakers. For a bolder statement, try a patterned shirt featuring complementary hues that playfully contrast with your blue jeans.
A pop of color can also be achieved through a light, pastel-colored shirt, adding a refreshing touch to your ensemble. Remember, the key lies in the balance – a well-placed pop of color can transform your blue jean look from ordinary to extraordinary, making your summer style truly captivating.
Elevate your summer style with vibrant shirt options from Tommy Bahama, Dolce & Gabbana, and more.
5. Classic Plaids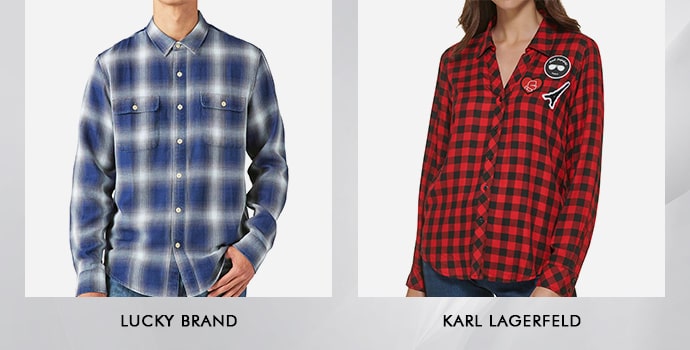 Plaid shirts effortlessly merge casual and refined styles. These versatile patterns come in a range of colors and sizes, allowing you to curate the exact look you desire.
The interplay of intersecting lines in various shades adds a touch of sophistication while exuding a casual charm. Opt for larger plaid patterns for a laid-back vibe, perfect for outdoor gatherings or weekend strolls. Smaller, intricate plaids bring a refined elegance suitable for more upscale occasions.
The color palette within the plaid can be tailored to match the shades of your denim, creating a harmonious ensemble. Whether you're aiming for a rustic, country-inspired look or a polished urban appeal, incorporating classic plaids into your attire effortlessly merges comfort with style for the ultimate summer outfit.
6. Go Denim for Double Denim
Embrace the double-denim trend by pairing your blue jeans with a denim shirt. Pairing the perfect matching shirt with blue jeans has never been easier.
Whether you're aiming for a casual outing or a stylish evening look, denim on denim offers you a range of options that effortlessly fuse comfort and style. Opt for classic light-washed shirts that complement dark blue jeans or bold patterned choices that add a touch of personality.
A denim shirt not only matches your blue jeans flawlessly but also enhances your overall summer aesthetic. Embrace the confidence that comes with wearing coordinated ensembles, and make this summer a memorable one with this versatile and trendy double denim combination.
7. Tropical Vibes with Hawaiian Shirts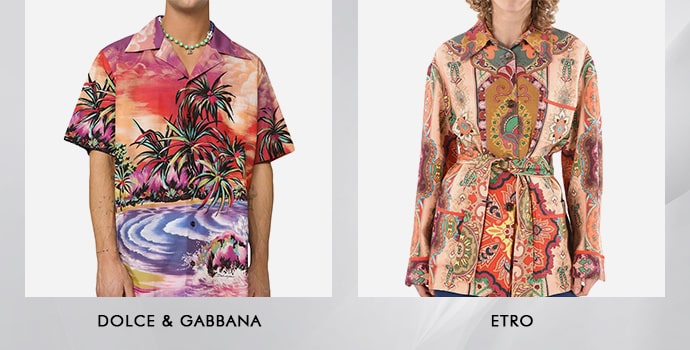 Infuse your summer wardrobe with a burst of tropical energy by wearing a Hawaiian shirt. The perfect companion to your perfect blue jeans, these shirts effortlessly channel the essence of the season.
With their lively patterns and vibrant hues, they bring a playful and relaxed vibe to any outfit. The combination of a Hawaiian shirt and blue jeans strikes a harmonious balance between casual comfort and exotic flair.
Whether you're planning a beachside adventure or a leisurely day out, Hawaiian shirts promise a touch of paradise wherever you go, embracing the laid-back aura of summer with every stitch. So, slip into one, let the tropical rhythms guide you, and relish the easygoing spirit of the season.
8. Linen Luxury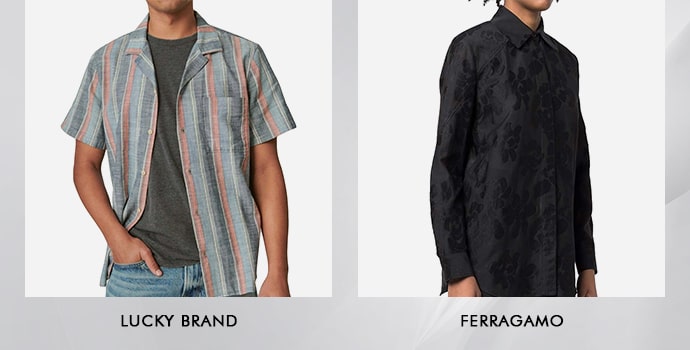 When it comes to nailing that perfect summer look with blue jeans, linen shirts are an absolute game-changer. Their lightweight and breathable fabric keeps you cool in the heat while exuding an effortlessly stylish vibe.
Opt for pastel shades like soft pink, mint green, or sky blue to complement the laid-back charm of blue jeans. Embrace the untucked style for a relaxed feel, and consider rolled-up sleeves for that extra casual touch.
Linen's natural texture adds depth to your outfit, making it easy to dress up or down. Whether you are strolling on the beach or enjoying brunch, a linen shirt is your go-to partner for acing that ideal blue jeans ensemble.
9. Graphic Shirt for a Contemporary Twist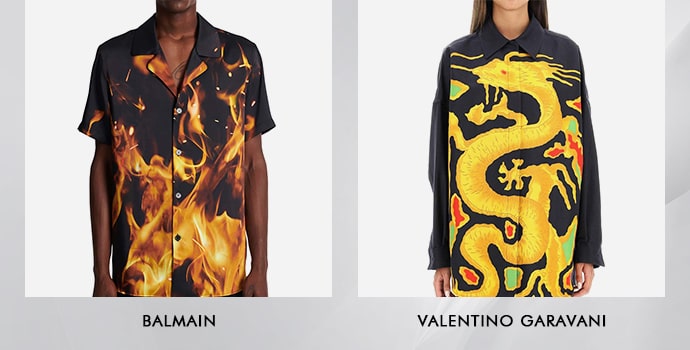 For a contemporary twist that's bound to turn heads, consider the graphic shirt route. Graphic shirts are the ultimate canvas of self-expression, injecting vibrant personality into your ensemble.
Opt for a shirt with a modern, eye-catching design that resonates with your vibe—be it retro, artistic, or pop culture-inspired. Balance the boldness of the graphic with the timeless simplicity of blue jeans. Remember, contrast is key; distressed denim pairs effortlessly with intricate graphics.
Elevate your look with complementary accessories, and you're set to redefine summer fashion. Unveil your style manifesto with the graphic-shirt-and-jeans combo, where individuality meets enduring flair.
10. Effortless Elegance with a Button-Down Shirt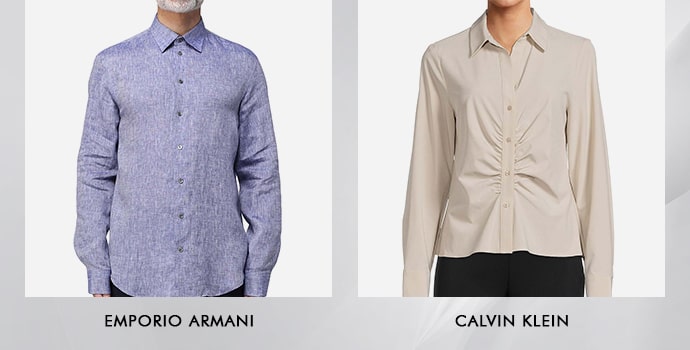 Effortless elegance meets casual sophistication when you pair a button-down shirt with your favorite blue jeans this summer. The perfect fusion of comfort and style, a lightweight linen or cotton shirt in classic white or subtle patterns adds a touch of refinement to your denim ensemble.
Achieving the right fit is essential, ensuring the shirt drapes impeccably whether tucked or untucked. Embrace the season's warmth by rolling up the sleeves and unbuttoning the collar for a relaxed vibe.
Mastering the art of summer's effortless elegance becomes second nature with the right button-down shirt, making a fashion statement that's both timeless and chic.
11. Keep it Classy with a Polo Shirt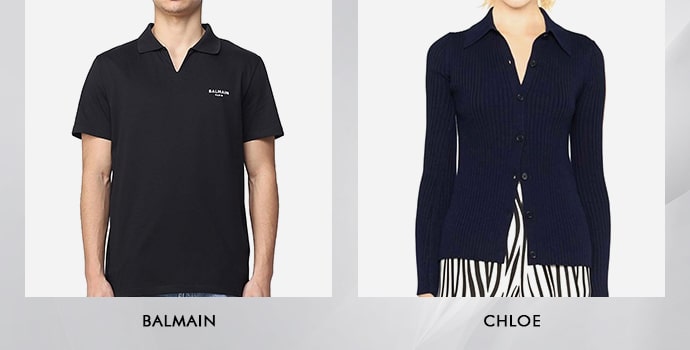 When seeking a timeless and polished look that perfectly complements your blue jeans this summer, opt for the classic charm of a polo shirt. This versatile piece effortlessly bridges the gap between casual and refined, making it an ideal choice for various occasions.
The collar adds a touch of sophistication while the comfortable and breathable fabric ensures you stay cool in the heat. Choose from an array of colors to suit your personal style and pair it with your favorite blue jeans for a sleek ensemble.
Whether you're attending a casual gathering or exploring the city, a polo shirt from brands like Ralph Lauren or Hugo Boss brings an air of understated elegance to your summer wardrobe.
12. Camp Collar Shirt Elegance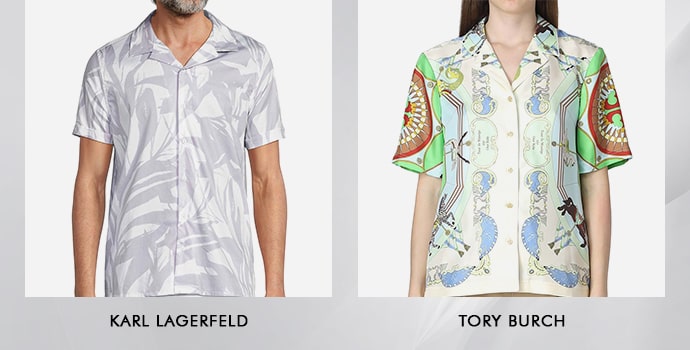 The camp collar shirt, also known as a resort or Cuban collar shirt, is a stylish and relaxed option for your blue jeans. This shirt features an open collar and a straight, boxy fit, giving it a vintage and tropical vibe.
It's a perfect choice for adding a touch of retro coolness to your summer look. Opt for vibrant colors or playful prints like palm leaves or florals to embrace the laid-back feel of this shirt style.
Whether you're heading to a beach party, a casual dinner, or simply strolling around town, the camp collar shirt effortlessly complements your blue jeans while offering a distinctive and fashion-forward appearance.
Decoding The Art Of Selecting The Right Shirt For Yourself
Selecting the right shirt might seem like a simple task, but it's an essential aspect of personal style and comfort. A well-chosen shirt can enhance your overall appearance, boost your confidence, and convey a certain vibe or message about your personality. With a plethora of options available, making the perfect choice can be overwhelming. Let's understand the factors to consider when selecting the best matching shirt for blue jeans for men & women.
Occasion and Purpose: The first step in choosing the right shirt is to consider the occasion and purpose. Different events and situations call for different shirt styles. A formal business meeting demands a crisp, well-fitted dress shirt, while a casual outing might require a more relaxed button-down or polo shirt. Identify the purpose of the shirt, whether it's for work, a social event, a date, or everyday wear, as this will guide your decision-making process.
Fit: One of the most critical aspects of selecting the right shirt is the fit. A well-fitting shirt can drastically enhance your appearance, while an ill-fitting one can have the opposite effect. Pay attention to the following fit details to ensure that the shirt compliments your body shape and accentuates your best features:
Shoulder seam: The seam should align with the edge of your shoulder.
Collar: Should comfortably fit your neck without being too tight or too loose.
Chest: The shirt should drape nicely over your chest without pulling or sagging.
Waist: A slightly tapered fit at the waist can create a polished look.
Sleeve length: Sleeves should end just above your wrist bone.
Length: The shirt should be long enough to tuck in comfortably.

Fabric: The fabric of a shirt affects both its comfort and appearance. Different fabrics offer varying levels of breathability, texture, and durability. The choice of fabric also plays a crucial role in determining how well the shirt drapes on your body and how it responds to different weather conditions. Common options include:
Cotton: Versatile and breathable, suitable for both casual and formal occasions.
Linen: Lightweight and perfect for hot weather, but prone to wrinkles.
Silk: Luxurious and smooth, often used for formal events.
Polyester blends: Offer wrinkle resistance and stretch, ideal for travel.
Flannel or denim: Provide a rugged, casual look.


Color and Pattern: Color and pattern selection greatly influence the overall look of the shirt. Consider your skin tone and personal preferences when choosing colors. Neutral colors like white, black, navy, and gray are versatile and easy to match. Patterns such as stripes, checks, plaids, and solids can create different visual effects. Choose patterns that align with your personal style and the occasion.
Collar Style: The collar style of a shirt can significantly impact your appearance. Different collar styles suit different face shapes and tie choices. Common collar styles include: 
Spread collar: Versatile and suitable for most occasions.
Point collar: Classic and formal.
Button-down collar: Casual and great for layering.
Club collar: Rounded and slightly unique.
Mandarin collar: A unique, stand-up collar that exudes modern sophistication and works well with a minimalist aesthetic.


Details and Accents: Small details can make a shirt stand out. Consider elements like buttons, stitching, cuffs, and pockets, as they not only add personality to your outfit and showcase your attention to style but also provide subtle opportunities to express your creativity and elevate your overall look.
Personal Style: Select a shirt that resonates with your personal style. Whether you prefer a minimalist, preppy, edgy, or bohemian look, your shirt should reflect who you are. A shirt that aligns with your style will make you feel more comfortable and confident, allowing you to express your uniqueness with every wear.
Comfort and Mobility: Prioritize comfort and mobility. Choose fabrics that feel good against your skin and allow you to move freely. A comfortable shirt not only feels better but also looks better on you, exuding effortless confidence that comes from feeling at ease in your outfit.
Maintenance: Consider the shirt's care instructions. Some fabrics require special care, while others are low-maintenance. Choose a shirt that aligns with the level of effort you're willing to put into maintaining it, ensuring that your choice remains practical and sustainable in the long run.
Budget: Set a budget for your shirt purchase. Quality shirts can vary greatly in price. Remember that investing in a few high-quality shirts is often better than having a closet full of cheaper, less durable options. Your wardrobe's foundation lies in these quality pieces, ensuring timeless style and lasting satisfaction.
So, selecting the right shirt involves thoughtful consideration of various factors, from the occasion and fit fabric and personal style. A well-chosen shirt can enhance your appearance, boost your confidence, and make a lasting impression.
You can explore the wide array of options available and confidently choose a matching shirt for blue jeans that align with your individuality and preferences. Remember, the perfect shirt not only looks good but also makes you feel good.
Conclusion
When it comes to mastering summer style, the art of choosing the matching shirt for blue jeans is both creative and personal. Whether you opt for the timeless charm of a crisp white shirt, the playfulness of patterns, the rugged elegance of chambray, or any of the other inspiring options mentioned above, remember that confidence is your most essential accessory.
As you step into the sun-soaked days of summer, embrace the opportunity to showcase your unique style while staying comfortable and cool. With these X ways to pick the best matching shirt for your blue jeans, you're well on your way to curating effortlessly stylish and memorable outfits for the season ahead.