June 30, 2022
The suit appears to be self-sorting. The true conundrum is what you choose to wear with it—clothing designed to express something, such as a personality. And a lot of the time, it comes down to your necktie and shirt. Or, in some cases, only the tie — several London banks, for example, still insist on plain white or blue shirts for their personnel. However, for those of us who have a genuine job, the question remains: which tie goes with which shirt? From form to color to texture, here is everything you need to know.
Pairing up the tie and shirt as per their shades is the key to infinite invincible looks
After you have taken care of the shape, it is time to tackle the tough task of matching the necktie and shirt aesthetic. There are numerous guides that claim to lay out color matching rules, but these are at best flimsy. The truth is that a tie and shirt that purposefully clash in pattern or color can look excellent if worn with confidence (and a relatively plain blazer). However, not everyone is as daring when it comes to matching their tie and shirt.
Focusing on color is the most straightforward way to do it right because the necktie's color always echoes, but never quite matches, that of the shirt. Instead, the two colors are close to one another, as they were two tints that may well mix to become another on a color spectrum. Although it is not particularly creative, it is most likely the simplest method for blending two colors in a beautiful fashion.
A white shirt enables you to wear almost any necktie, and the darker hue must be in the necktie instead of the shirt. Similarly, the necktie's pattern should be more pronounced or wider than the shirt's design, particularly if the piece is stripped.
This does not imply that the main color of your shirt must match the primary color of the tie; rather, any noticeable details on the tie may use the shirt's primary color as a compliment. The main section may, in fact, complement the shirt. The best contrast is achieved by pairing basic ties with plain shirts in solid (i.e., non-patterned) colors. The color will speak for itself, therefore there is no need to apply a pattern. Solid neckties actually tend to solve a variety of problems when getting changed in the early hours is hurried and sleep-deprived, and they go with both patterned and plain shirts.
The texture and composition of the tie and shirt must be in sync
The knitted necktie truly shines in this situation since its texture is captivating enough to keep things interesting on its own. Due to the focus on finding the ideal color combination when combining shirts and neckties, it is simple to overlook the appeal of substance in the dynamic between the two. Since fine, crisp cotton poplin is no longer the only material available for work shirts. Jacquard, linen, or even thin denim are all acceptable fabrics for shirts. They all seem to have a distinctive feel, which when worn with a necktie is also used as a way of personal expression.
Contrast is an additional choice, similar to how it is with color; one example is balancing the silk tie's smooth sheen with the shirt's rougher surface. Find a motif that goes well together, like wearing a patterned shirt with a structured necktie that is usually made of knitted cloth or satin. Since these choices are less formal, they work particularly effectively in settings where business casual is the norm.
Tie and shirt combinations you can blindly count on
Still, having trouble deciding what to wear to the office every morning? Here are some go-to combinations for the fundamental business shirts that every modern gentleman should have in his rotation
Shirt in white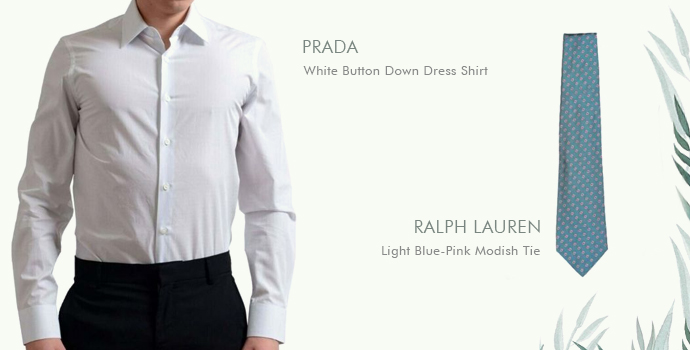 A solid block color is a safe pick when wearing a basic white shirt because it has a broad scope Alternately, feel free to experiment with any hue of stripes, dots, and patterns. A white shirt is always a winner; you can never go wrong with one.
Shirt in blue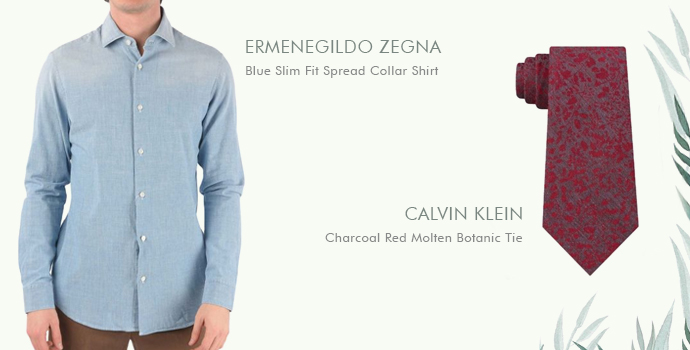 The pale blue shirt is particularly gorgeous, working nicely with both deeper, tonal blues and deeper tints of crimson, fiery tangerine, ochre, and emerald.
Shirt in pink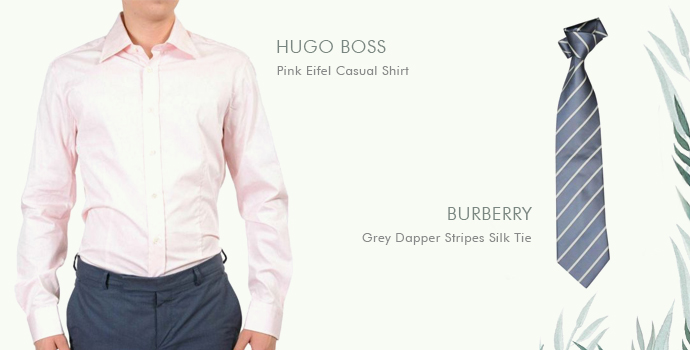 Even though the light pink shirt pops out by itself, a midnight blue tie might tame it. To add more contrast, you can use shades of yellow, maroon, lavender, or charcoal.
Shirt with checks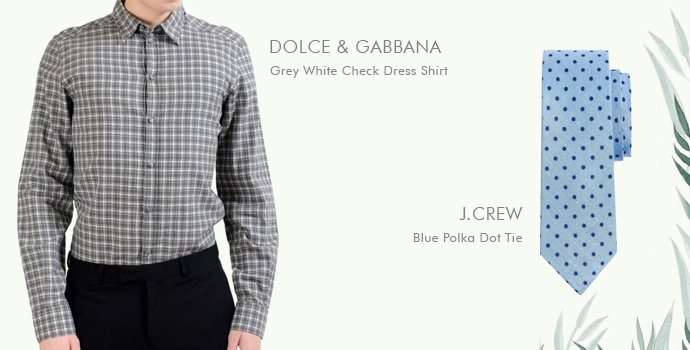 Check shirts are excellent for daywear, but they may also be glammed up for a more conventional corporate environment when worn with a block-color necktie (particularly one that complements one of the shirt's primary colors).
Make very sure the tie's pattern is louder and wider if you are wearing a checked shirt with one, whether it be striped, checkered, dotted, or something else, to prevent it from blending in with the shirt.
Shirt with stripes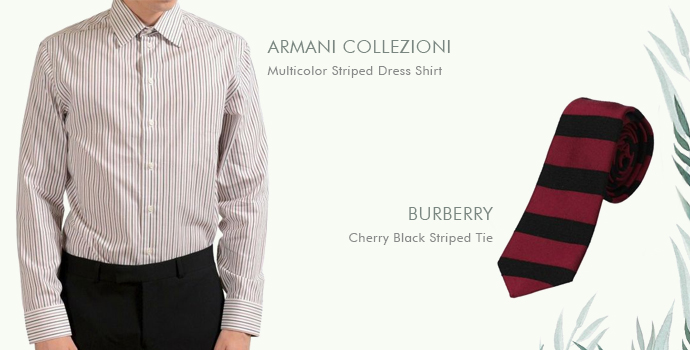 Your best bet when wearing a striped shirt—which is often attractive enough on its own—is a straightforward, block-color necktie in a coordinating or tonal color.
As long as the pattern is stronger and in a different arrangement (vertical stripes against horizontal stripes, for instance), to give some much-needed variation, a striped tie is a sure choice when it comes to pattern recognition.
It is not easy to find a tie and shirt to be nice neighbors. But it is also nothing to be concerned about. When it comes to assessing your entire appearance, guys tend to place significantly more emphasis on getting their necktie and shirt selection correct than it deserves.
There are a few considerations to keep in mind before getting too riled up about your tie and shirt ensemble: a well-fitting suit, excellent, clean shoes, ironed clothing, and even your overall presentation. If you do these things right, the fact that your necktie looks great with your shirt is definitely added bonus. If it does not, put it down to your personal taste.