July 4, 2022
The classic combination of dressy and casual clothing is a jacket and jeans. The outfit combines design and comfort, with just the necessary amount of sophistication to be appropriate for semi-formal occasions. This male outfit, often known as a blazer and jeans, allows you to look stylish while keeping a calm and relaxed attitude.
You can dress in business casual by wearing denim and a suit jacket to the office or on a romantic luncheon date with a woman you respect. Although you should first verify with the wedding party, even outdoor weddings may have dress requirements that permit this combo. With these important wardrobe staples, form and proportion are crucial. As with any other industry, execution is crucial in men's fashion. You need to finish the appearance with the appropriate coat, jeans, footwear, and accouterments whether you're wearing light or dark pair of jeans and an azure, charcoal, black, indigo, brown, or army green blazer.
Here is everything that you need to know about pairing up a blazer with a pair of denim for all occasions:
Selecting the ideal blazer
The fit is crucial for sports coats, and it becomes much more important when you pair this easygoing coat with denim. In order to prevent seeming dowdy, you should wear a well-fitting jacket. However, it shouldn't be too snug or your pants will feel out of place.

When selecting a blazer, color is vital. A navy blazer is a wardrobe staple for every man, and it looks excellent with denim. With dark denim, a grey sports suit looks chic and sophisticated and is perfect for layering. Brown or tweed sports coats look great with light- or dark-washed denim. Light brown can be utilized to highlight a refined outfit, while rustic brown tones can be worn with pants for a more laid-back, relaxed look.

Now is a great time to experiment with new blazers because there is greater latitude when it comes to styling for casual and semi-formal occasions.
Using its perfect fit as a foundation
The fitting of a sports jacket is primarily determined by the shoulders. Your shoulders should match those of the blazer's shoulders. In order to avoid having your shoulders hang below the line on the outside, it is wise to keep your arms in sync with the blazer's line. Between your forearm and the first knuckle of your thumb, at the back part of your palm, is where the sleeves should end. The buttons on the suit jacket shouldn't cross the stomach, nor should the waistband be very tight. Blazers that are worn with denim should often be a little smaller than those that are used with formal wear to stop looking out of sync.
Add the ideal pair of jeans to the outfit.
Since the return of selvage and raw jeans, there are several high-quality denim options available for men. A lot of well-known companies have also started creating more affordable versions of vintage jeans.
Denim that is lighter can be worn with more casual attire whereas denim that is darker is typically more dressy. If your sports jacket isn't being drastically dressed down, stay away from utilizing just so many patterns or distressing.
Aim for a dark wash, a few rivets, and dazzling details on fitting but not extremely slim denim to reach the utmost level of formality. The most adaptable color for mixing with a sports jacket is dark-washed denim.
After you've perfected wearing a blazer with dark washes and faded jeans, you may advance to wearing one with lighter washes.
The most comprehensive selection of blazers for you to select from based on their colors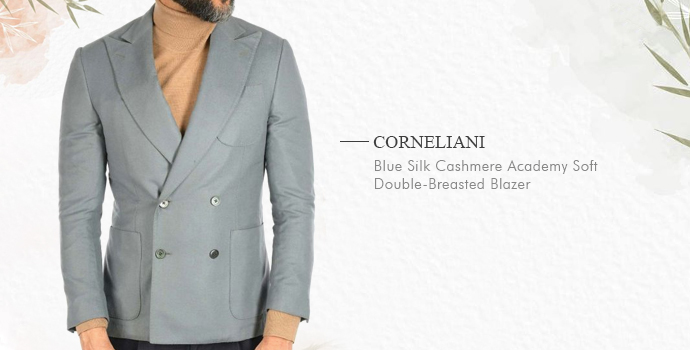 The color of your sports jacket will have a significant impact on your ability to pull together outfits with it. When selecting a pair of denim jeans, be careful as it could limit your possibilities. Even if there are numerous hues available nowadays, a blazer and slacks go nicely with a few neutral tones.
You may make grey as simple or complex as you like. It might be possible to dress up a regular white and grey suit jacket with sharp edges.
Navy blazers are classic and highly adaptable, just like all clothes. Lighter washes of jeans can give off a refined vibe whereas dark jeans are often more formal.
Despite the common misconception that black goes with everything, matching black sports jackets with other colors can be difficult. When pairing jeans with a black blazer, you should exercise caution.
Brown blazers and jeans go well with a variety of outfit combinations. Lighter brown sports coats, those that are similar to khaki, should be worn with dark pants and a white shirt for a polished appearance.
Putting together a gorgeous look
There are countless sports jacket colors and denim washes to choose from, which can be intimidating when struggling to put out an ensemble with denim and one. Start with what you have, then progress. You may put together a number of looks with a jacket and jeans as long as your clothing is well-fitting and the colors go well together. Regardless of the color or fit of the jeans you prefer, our guide has recommendations for you.
Black jeans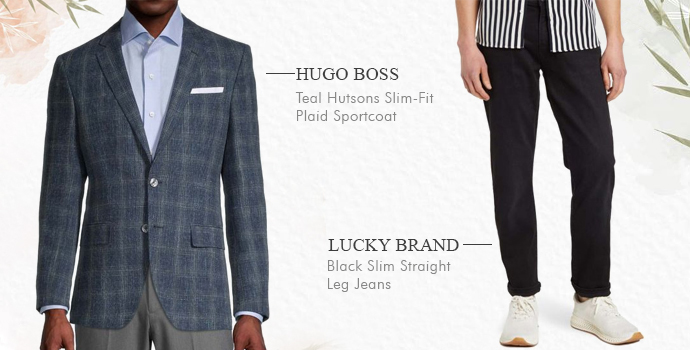 You may create a very sleek, contemporary look with a jacket and a pair of black denims. Although these clothes have sharp components, they may nevertheless be worn casually. A striped shirt looks stylish when worn with black skinny trousers and a slender black sports jacket.
Blue jeans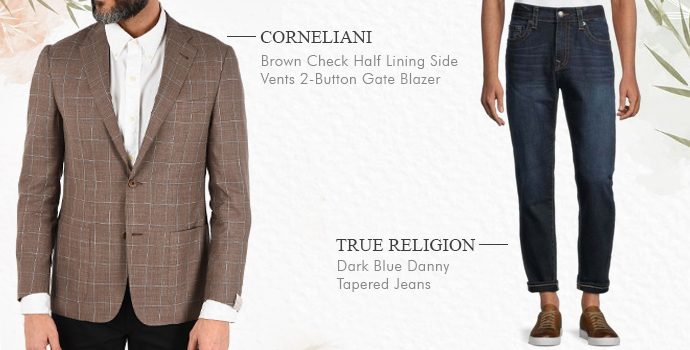 A blazer and blue denim are timeless ensembles that can be customized in endless ways. Dark pants and blue sports coats should not be worn together since they clash. Brown, olive, and even baby blue are just a few of the many colors that can be used with dark jeans.
Grey denim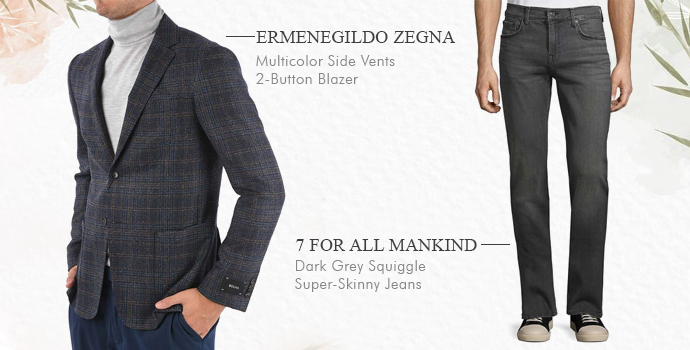 With blue jackets and other striking pieces, grey denim, a versatile neutral, looks fantastic. Feel free to experiment in this case since some dark gray denim is a variety of distressed black. With similarly stylish blazers, complement the current style of your denim. Search for exact fittings and little lapels.
How to Wear With denim and a Blazer
Purchase a high-quality jacket and pants that are appropriate for your body type and personal taste.
Match your sports jacket's structure to the style of your denim.
Dark jeans are more traditional, whilst light jeans allow you to be more creative.
Choose the appropriate shoes and accessories to complete your ensemble.
A smart-casual ensemble is created by pairing slim-fit trousers with black jackets.
For a more casual look, choose light color combinations; for a dressier or professional look, choose darker colors.
For a fashionable, cool look, pair denim and a sports jacket with a shirt and white shoes, whereas a button-down dress t-shirt with brogues or loafers produces a semi-formal, smart look.