October 11, 2022
Luxury designer handbags make an ideal present for a close friend or a family member, and it's even a great option to gift yourself!
However, buying a designer bag can be a wonderful investment, particularly when it comes to those timeless styles that will never go out of fashion.
In addition, since fashion trends keep changing, your investment in a designer handbag won't lose value with proper care.
In fact, it may even increase the initial purchase price. Isn't that amazing? We're here to guide you about timeless luxury designer bags appropriate for any occasion.
We have a rundown of the top 35 most iconic luxury designer handbags from the best handbag brands in the world that are absolutely worth the expense, including Chloe Drew, Alexander McQueen Legend, Prada Cleo, and more.
1. Prada Promenade Handbag
The Prada Promenade bag is mostly characterized as "evergreen," and no collection of famous Prada handbags is ever complete without it! It has been a bestseller from the House for a long time now.
The Prada Promenade handbags are available in four different sizes, mini, small, medium, and large.
This most popular high-end designer bag has been crafted in Saffiano leather, distinguished by its trapezoidal dome form, and can be carried by the wrapped handles or worn as a crossbody with the long shoulder strap.
The dual-sided zip-around fastening reveals a spacious inside with a nylon lining, where it is highly practical to store daily essentials.
The brand emblem at the front makes the handbags ready to be carried with class, and the gussets ensure nothing slips off the bag when the twin zippers are fully opened.
2. Chloe Drew Handbag
Here, we will talk about the Chloé Drew Bag, a luxury bag for women that has already received much praise from many big names and celebrities. Given the history of expensive designer handbags, it is perhaps one of the handbags that have been imitated the most.
It is the classic fashion investment that everyone is mesmerized with, and it comes in a variety of vibrant hues to match all vibes and rock every occasion.
This petite bag had gold hardware detailing which makes the bag the most ideal handbag among fashion-forward people.
3. Fendi Baguette Handbag
The TV show Sex and the City, which is legitimately regarded as one of the major inspirations for up-and-coming fashion designers, is responsible for popularising the Fendi Baguette handbag.
As suggested by the name of the designer bag, Fendi's Baguette Bag is a little pochette that gracefully sits under any arm like perfect arm candy.
It was designed by an iconic fashion designer Silvia Venturini Fendi in the year 1997 and was "the first bag that was handled as a garment", as Venturini Fendi also mentioned in Vogue.
It is likely one of the biggest comebacks in the history of the fashion industry that everybody loves and desires. Designer handbag collectors must not miss this best luxury designer bag!
It comes in a variety of textures, sizes, and hues that makes it a versatile piece of fashion.
4. Givenchy Antigona Duffel
The Givenchy Antigona Duffel bag was first made popular in the Givenchy fall/winter 2011 runway collection and has since then been produced in a huge variety of vibrant hues and materials.
For people who are constantly searching for something classic yet useful and especially elegant, then this iconic bag is one of the best designer luxury handbags that you should consider.
Givenchy Antigona Duffel bag can be your go to bag for workplaces, parties and also for any social occasions.
5. Chloe Tess Bag
The Tess Bag by Chloe is a brand-new addition to the brand's handbag lineup. It is crafted from a classic blend of leather and suede.
Its rounded and elegant shape blends well with the other handbag designs from the French company. The most distinct feature of this high-end luxury bag is the large golden ring attached at the front.
Chloe Tess bag is accessible in two different sizes: medium and small. This top luxury designer bag is a versatile piece as it includes two straps: a short one for carrying it as a handbag style and a larger one for wearing it across your body as a cross-body bag.
The designer bag comes in different colors that are sure to mesmerize you.
6. Alexander McQueen Legend Handbag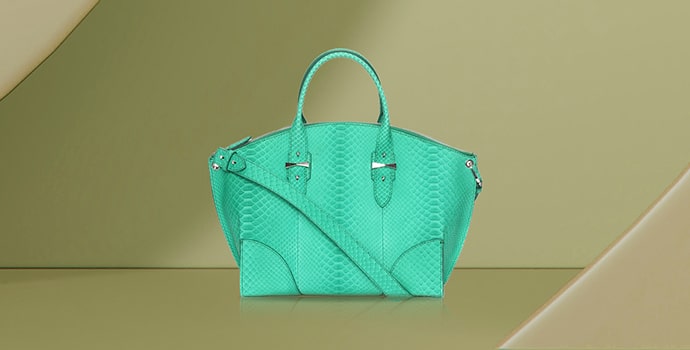 The Legend handbag by the celebrated designer brand Alexander McQueen has gained a lot of popularity in recent years and will surely continue to wow fashionistas for many years to come.
It's one of the most sophisticated and classic luxury designer handbags that are well worth every penny spent, and it's not hard to see why.
The rich details and luxe look of the bag are what sets it apart from any other luxury handbag brand. As the name suggests, it is one of the most legendary handbags in the luxury fashion world because of all the good reasons.
The shape of the bag is spacious enough to carry all your essentials in style without any hassle.
7. Givenchy Moon Cut Out Hobo Bag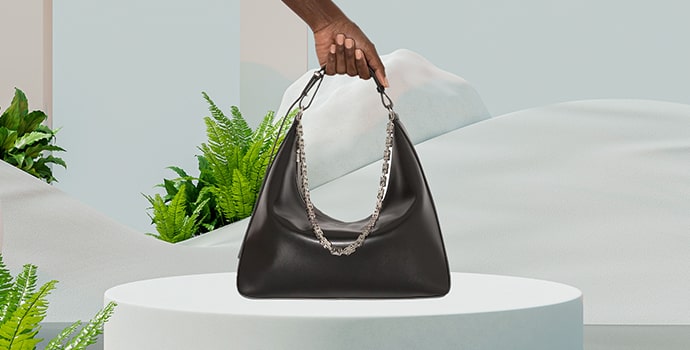 This really stylish shoulder bag is perfect for escorting you from day to night! Givenchy Small Moon Cut Out Leather Hobo Bag is crafted in supple leather and has a flawlessly casual form with a structured base and softly curved top.
A G-cube chain strap in sparkling silver serves as the ideal glitzy accent to this best luxury designer bag, and there is also an adjustable leather shoulder strap.
As both straps are removable, you may choose the one that best complements your style. The small size is ideal for carrying your daily necessities or all the basics you'll need for a night out.
8. Fendi Peekaboo Handbag
Over ten years after its runway debut, the Peekaboo is still one of the greatest Fendi bags ever made and is a real handbag legend.
The Peekaboo bag gets its name from its unusual design, in which the bag is split into two different halves and features a front flap that, when pushed down, allows you to look inside this most popular high-end designer bag.
The standard Peekaboo is currently available in sizes ranging from large to extra small. You should probably increase your collection of accessories to include at least one of each.
9. Prada Cleo Handbag
The Prada Cleo handbag draws inspiration from vintage Prada designs. It is easy to understand why it has been such a big hit among various fashion-forward people, designers, and influencers across the globe.
Given its streamlined and elegant design, this most luxurious designer bag is made up of genuine leather with exquisite silver hardware details and magnetic fastening. The main element of this luxury designer bag design is its versatility.
This best designer luxury bag can be your go-to option for practically every outfit. Prada Cleo handbag comes in different vibrant colors to make your outfit pop from a distance.
10. Coach Tabby Shoulder Bag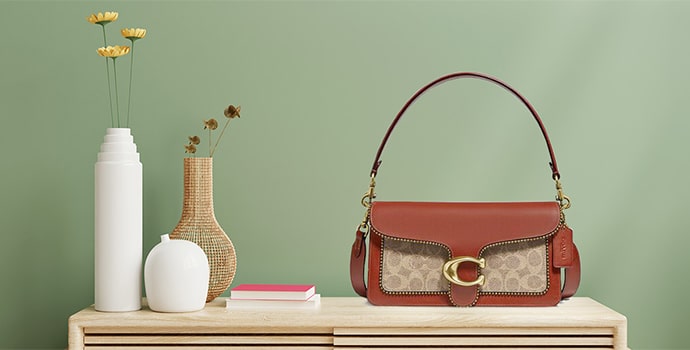 The Coach Tabby bag is a relatively new launch by the luxury fashion label and has instantly become an immediate favorite for forwarding people.
Whether you want a shoulder bag, cross-body bag, or top-handle bag, the Coach Tabby shoulder bag is available in a variety of shapes, colors, and designs, all of which are equally fashionable and can be effortlessly dressed up from day to night.
The Tabby is the most beautiful designer bag in the ideal medium size, not too petite to hold your basics but not too large to seem like a tote.
The gold C logo hardware detailing on the flap is the real show-stopper.
11. Saint Laurent Yves Roady Handbag
The YSL Roady Bag first appeared on the fashion runway for the Yves Saint Laurent fall/winter 2009 to 2010 collection. Gossip Girl's actress Blake Lively later declared Saint Laurent Yves Roady's handbag to be her favorite luxury designer handbag.
It is also a favorite choice of fashion legend Mary-Kate Olsen, so whenever it drops at a high-end vintage shop, it is going to be one of the bags that sells out the quickest.
This luxury handbag brand has surpassed all other labels with its elegant designs, classic detailing, and luxe aesthetics.
The Yves Saint Laurent Roady bag comes in various different colors for you to choose from that suit your taste and preferences.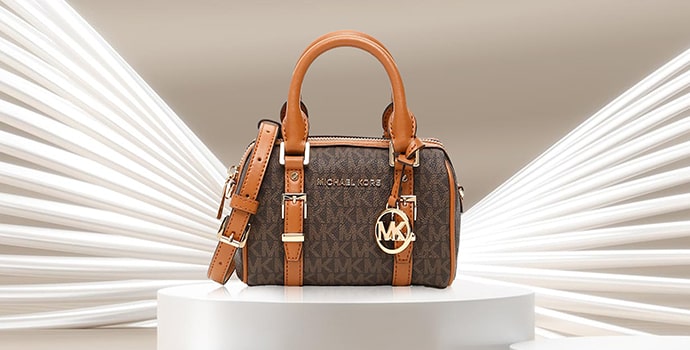 If you have enough solid-colored bags in your closet, it's a good idea to look into patterned or monogrammed, or logomania choices to add some detail to your outfits.
The Bedford Legacy Signature Mini Crossbody appears to be a top luxury designer bag and is available in both dark and light shades of brown and cream color.
This bag is distinguished by its small gold feet and a huge "MK" charm dangling on the handle of the bag. It contains an adjustable crossbody strap as well as two top handles for carrying it as a handbag and a crossbody.
The bag has a zipper closure and most Michael Kors lovers adore the cream and tan tone of this bag.
13. Celine Luggage Tote Bag
The Celine Luggage is one of the best Celine handbags that are worth every penny spent. The Luggage was designed by the legendary British fashion designer Phoebe Philo, who gave tote bags their opulent makeover in the year 2009.
Philo said that the bag was intended to be part of "a wardrobe, a practical ABC of clothes," and it is one of the classic accessories and a great investment that will always be the first to fly off the shelves in any vintage store.
The color scheme of the bag, attention to detail, and statement hardware make the bag classy and chic.
14. Bottega Veneta Jodie Handbag
With the Jodie shoulder bag, Bottega Veneta returns to its luxurious leather heritage. It was named after the American actress Jodie Foster, who was pictured shielding herself from reporters by clutching her Bottega bag to her face.
This purse adds texture to any ensemble with its unique Intrecciato pattern and design, which was initially employed to enhance the durability of an item.
Its one-strap style, roomy shape, and diverse color palette make it a worthy rival to the other luxury bag brand ranking.
So it's no surprise that it's a favorite among influencers.
15. Alexander Wang The Rocco Handbag
Ironically, Alexander Wang, who is not a lover of accessories, is one of the most well-known fashion designers of handbags and accessories. The Rocco handbag, which was created in the year 2009, rose to fame just after the Olsens were seen carrying it while heading out.
They were seen styling this most popular high-end designer bag with similar rock-chic clothes.
This bag can be your go-to luxury bag whether you just enjoy collecting designer handbags or are just a lover of glam and elegant fashions.
This classic bag has been crafted in genuine leather and comes in monochromatic colors with studded detailing at the bottom of the bag.
16. Celine Trapeze Handbag
Particularly when it comes to the best designer luxury bags, the Celine Trapeze handbag is always among the top designer handbags worth all your penny.
It has a streamlined top handle, and distinct travel wings, and is offered in a wide range of colors, sizes, and textures like pony calfskin, shearling, python, crocodile, and calf hair.
It also has a combination of box flaps. This iconic bag is crafted in high-grade leather material and it currently comes in two different sizes, small and medium.
Celine Trapeze handbag is one of the top luxury designer handbags when it comes to signature designer handbags for women because its vibrant color offerings make it an ideal choice for adding a pop of color to your outfit.
17. Mulberry Alexa Handbag
With numerous first ladies and princesses inspiring fashion labels to rename their products during the twentieth century, having a source of inspiration for a handbag in the twenty-first century was the only logical outcome.
Mulberry's Alexa, designed by Emma Hill in the year 2009, was named after star Alexa Chung, who still carries it around from time to time.
This best designer bag gives off a look of a vintage briefcase bag but with a stylish twist.
With silver hardware detailing on the bag and various beautiful colors makes the bag catch the eye.
18. Saint Laurent Solferino Bag
The boxy silhouette of the Solferino bag allows the big YSL logo emblem to be the center of attraction.
The classic design of the bag lends a timeless appeal to this best designer leather shoulder bag that will be relevant in the fashion industry for decades to come.
We all know that the best things come in little packages. The Solferino bag, despite its diminutive size, packs a powerful punch.
It can take any outfit from ordinary to extraordinary.
19. Balenciaga Classic City Bag
The Classic City Bag by Balenciaga is the most popular high-end designer handbag that is essentially the greatest investment for anyone who enjoys experimenting and playing with some watercolor effects!
It is a good investment that is suitable for any occasion as the bag is urban-chic, practical, and also very stylish.
It blends the high street allure of Balenciaga with some of the trendiest fashionista vibes of all those women who carried it everywhere between the 1990s and the 2000s.
This top luxury designer bag is one of Kate Moss' all-time favorite bags the Balenciaga Classic City Bag, which was perfectly designed by Nicolas Ghesquière as a follow-up to the less well-known Balenciaga The First Bag.
20. Tory Burch T Monogram Jacquard Bucket Bag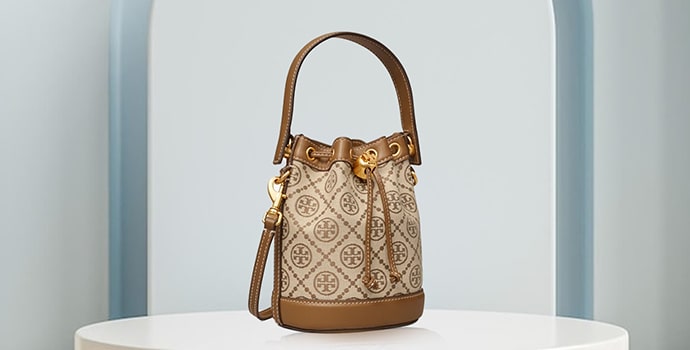 Tory Burch T Monogram Jacquard Bucket Bag gives the traditional bucket bag an eye-catching makeover.
This bag can be your new go-to Spring/Summer fashion staple, featuring a top handle and shoulder strap for more versatility.
The gold hardware detailing on the bag gives it a luxe appeal that everyone loves.
This is the best luxury bag to start your collection as the pattern on the bag is something very unique and makes you look exquisite and edgy when you step out carrying this iconic bag.
21. Loewe Puzzle Handbag
Only serious designer bag lovers are familiar with Loewe's Puzzle Bag which is a luxury handbag that everyone ultimately comes to adore.
Fashion designer Jonathan Anderson designed Loewe's most recognizable handbag after exploring the Loewe archives and finding an old fake-leather bag that served as inspiration for one of his most expensive pieces. Anderson characterized it as "a soft, supple bag that moves incredibly."
This luxury handbag has been crafted in high-grade classic calfskin and comes in different colors and textures that perfectly complement your look.
22. Stella McCartney Falabella Handbag
The Falabella is without a doubt the most well-known item designed by the iconic fashion designer Stella McCartney.
The handbag was one of the first designer bags to be made of eco-friendly, cruelty-free, and leather-free materials. The designer herself holds it in high regard because it was produced with the intention of inspiring care for the environment. It comes in many vibrant colors and textures.
Stella McCartney Falabella handbag features a diamond cut chain detailing that frames the edges of the bag and adds a hint of luxe and elegance to this environmentally friendly bag.
Many celebrities have been seen carrying this most popular designer handbag like Kim Kardashian, Rihanna, Jennifer Lopez, and more.
23. Jacquemus Le Bambino Top Handle Handbag
The Le Bambino bag, with its sleek and chic design, is another pint-sized piece from Jacquemus that makes a perfect crossbody companion for all your day-to-night ensembles.
The shoulder strap on this bag is adjustable and removable, with a lobster clasp. The top of the bag has a handle that may be carried across your body and on your hand as well.
A top-handle bag, like a shoulder bag, is a classic silhouette that will never go out of fashion.
Le Grand Bambino includes a little card holder hidden under the bag for easy access to your cards. It's the ultimate combination of fashion and functionality.
24. Bottega Veneta The Pouch Bag
The Pouch has become one of the most talked-about Bottega Veneta bags despite the fact that it is relatively new in the fashion market. One of Daniel Lee's first additions to the Bottega Veneta range, it quickly rose to the top of the blogger's and influencers' favorites.
Although it's not the most practical purse to possess, this big, fluffy clutch that looks like a cloud or a pillow makes a fashion statement. The Pouch has been updated in various sizes and with various handles, making it the most useful choice desirable to acquire.
The pouch comes in pastel and solid colors that make this iconic bag radiate its vibrance from a distance.
25. Jacquemus Le Chiquito
Do yourself a favor and get your hands on the bag that is the reason for the obsession with the miniature bag trend from the fall/winter 2019 collections.
Everyone was drawn to this little bag by Jacquemus for a variety of reasons, including its shape and cuteness. Jacquemus Le Chiquito size makes it more of a fashion statement than a useful accessory.
It is crafted with rubberized leather and comes in a variety of colors. A little gold brand emblem hardware piece is attached in front of the versatile bag.
It comes with a crossbody strap as well as a small handle to hold it in your hands too.
26. Kate Spade Remedy Frame Bag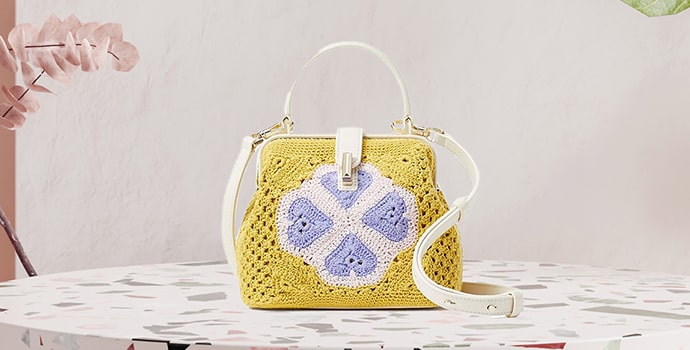 This new top-handle designer bag has been inspired by a doctor's bag but with a stylish structured silhouette.
This best luxury designer bag is available in many colors and textures such as floral print, polka dots, and patterned crochet knit, exemplifying the label's ability for fusing novelty with absolute functionality.
It is the quick remedy for any ensemble that needs a final touch. The practical hinged frame closure of the bag gives quick access to all of your belongings.
This designer bag comes with a cross-body strap and a handle which let us use this bag as a crossbody as well as a handbag.
27. Furla Sofia Tote Bag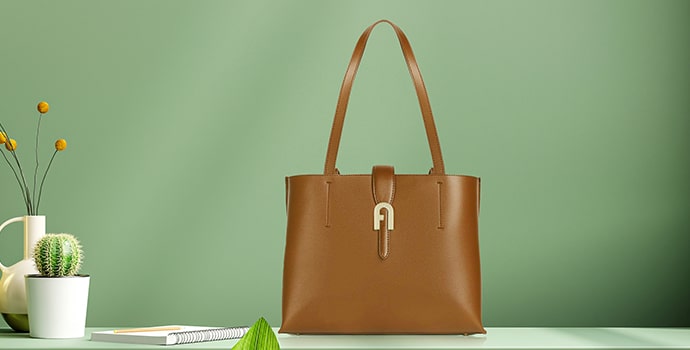 The 'Sofia' is a large leather bag that can hold all of your daily requirements and much more, whether you're going to college or commuting to work. This collection by Furla has a few distinct variants of the bag.
The most famous and traditional style is the tote, which comes in a variety of neutral and basic colors. It's a functional and practical bag made of grained calfskin.
This bag features the Furla 1927 Arch emblem and has a subtle appearance. This bag is a sophisticated and minimalist wardrobe hero that you cannot go wrong with.
28. Fendi Fab Handbag
The Fendi Fab bag is a lovely little cross bag that Fendi has designed for spring/summer 2020.
The Fab bag is compact, square, and sturdy, and it's now available in a few bright, eye-catching hues. The buckle fastening, which is a square variant of the FF emblem and comes in pure gold hardware or is studded with crystals. This is the designer bag's most striking feature.
Despite its modest size, this bag is well-organized, with two compartments and several card slots.
29. Saint Laurent Niki Handbag
Slouchy bag enthusiasts, rejoice! The YSL Niki handbag is a recent designer bag that debuted as part of the brand's spring 2018 campaign.
This purse was released just in time for the '90s fashion revival, which is still going strong in the present times, but we think it would look amazing regardless of the trends.
Despite its slouchy appearance, this bag is fairly safe and functional, with a flap that shuts with a strong magnetic fastening, a huge main compartment, and a few extra pockets to keep you organized.
Saint Laurent sells it in a variety of materials and colors to take your pick.
30. Marc Jacobs The SoftBox Bag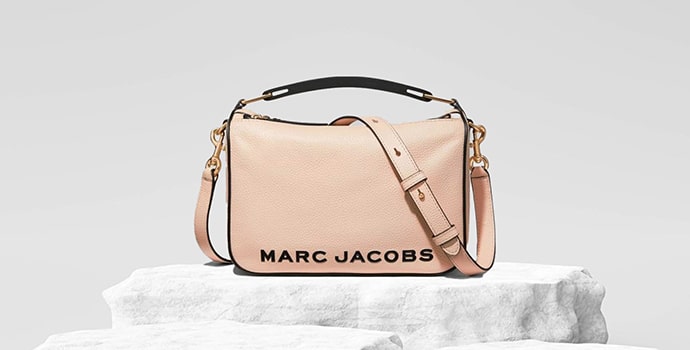 The Softbox is a redesign of the Box Bag that Marc Jacobs designed many years ago. The Marc Jacobs Softbox, as its name suggests, has a softer high-grade leather material exterior that is ideal for individuals who don't want to carry a large bag.
It also has a detachable crossbody strap that you can attach to the bag if you want to carry it on your shoulders rather than your hands.
This top luxury designer bag by Marc Jacobs comes in different colors that lets you steal the limelight.
31. Valentino Garavani Rockstud Spike Bag
The Rockstud bag from Valentino Garavani bridges a gap between opulent femininity and punk style that we had no idea even existed.
The Spike bag's major selling feature, like with other Rockstud items notably the beautiful Rockstud heels, is the spiky metal stud detailing that has the power to give any outfit an edge to it.
Valentino Garavani sells it in a variety of colors to choose from and has been crafted in high-grade Nappa leather with detachable shoulder straps and chains.
32. Balenciaga XX Flap Shoulder Bag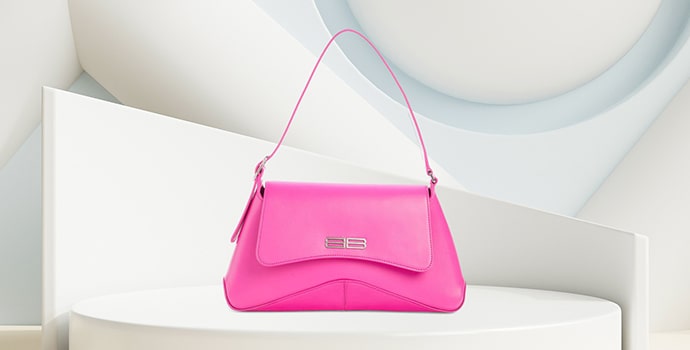 This gorgeous shoulder flap bag is a recent addition, but it has already gained a lot of popularity. Curved edges and a shorter shoulder strap give the iconic triangle design its attention-grabbing appearance.
This daily bag is ideal for adding a little something unique to a casual ensemble and has a zippered pocket inside the bag which lets you keep all your personal stuff safely.
We adore the bag in both the traditional black color and vibrant colors like pink, green, and blue to bring some color to your casual outfit.
33. Marc Jacobs The Snapshot Bag
The Snapshot is a fantastic camera-style fashion bag to own even though it isn't large enough for a contemporary DSLR.
This best luxury designer bag has a playful, sporty attitude while yet being stylish and inexpensive. Despite being petite in size, it is highly functional and spacious because it features two zippered compartments and internal zipped pockets.
The canvas strap and rounded JJ emblem hardware are the Marc Jacobs Snapshot bag's most distinctive features that intrigue the buyer. This top luxury designer handbag comes in quirky designs like The Peanuts and Snoopy editions.
34. Bottega Veneta Padded Cassette Bag
Another influencer favorite is Daniel Lee's second significant addition to the BV bag series.
Thanks to its unique and distinctive design, this contemporary, most popular high-end designer bag is more practical than the Pouch. The leather weaving method known as "Intrecciato," which is closely linked to the Bottega Veneta brand, is given an edgy and classic twist in this bag.
This bag is clearly a Bottega Veneta creation even if it has only a single gold triangular buckle on the shoulder strap.
35. Stella McCartney Marlee Handbag
Genuine leather may have dominated our list of the greatest designer handbags, but the vegan Marlee purse fits right in.
This basic yet most beautiful designer saddlebag is a recent addition to the eco-friendly designer's collection, but we think it has a timeless aspect due to its simplistic, bohemian appeal.
It is crafted in PVC that looks like Nappa leather, with a recycled polyester inside lining, and a perforated logo on the front.Stella McCartney Marlee Handbag comes with both a sophisticated faux-leather strap and a more contemporary canvas strap, allowing you to effortlessly switch up its design when needed.
So above you got the World's Best luxurious designer handbag list of 2022 that is trending currently that can be a great addition to your designer bag collections.