September 15, 2021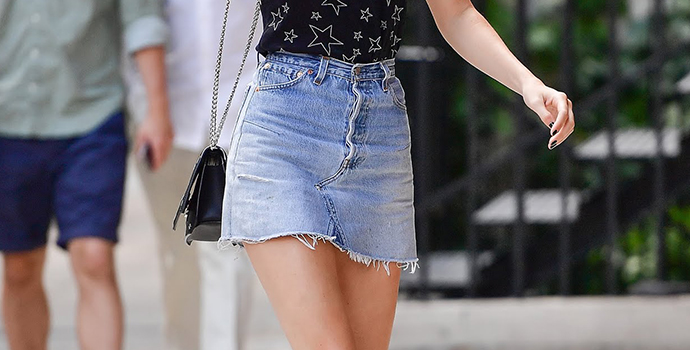 As some of you must be aware, denim skirts date back to the '70s. However, not many know that the purpose behind denim skirt outfits was to put worn-out jeans to use. Doesn't this view take you by surprise?
The eternal trend of denim skirts has been a versatile fashion statement throughout summer and an essential for fall. From running errands to having a night out with your friends, a denim skirt outfit will always be your companion all year round.
Listed below are some tasteful denim skirt outfit ideas.
Denim skirts suit everyone irrespective of their body type, age, and personality. The denim skirt style varies from full-length to ultra-modern mini skirts.
Denim mini skirt:
The classic mini denim skirt of your dreams is available in multiple colors, patterns, and prints, varying from neutrals like black and blue to cute pastel shades to complete all your looks for all occasions.
A-line denim skirt:
For all the fashion-oriented girls and ladies who would love to add a flattering shape to their collection, an a-line denim skirt style is a perfect pick for you.
Full-length denim skirt:
Do you still think that denim skirt ideas are just for casual wear? Check out the trend-setting full-lengths to add chic balance to your workwear.
Count on these brands to get a flawless addition to your denim skirts collection.
Known for its effortless urban styling and proficient craftsmanship, Rag and Bone also provide an array of denim skirt outfits. Amp up your wardrobe with this denim moss denim skirt from Rag and Bone crafted in cotton featuring zip, pockets, and belt loop. The rugged bottom is an addition to enhance your chic look.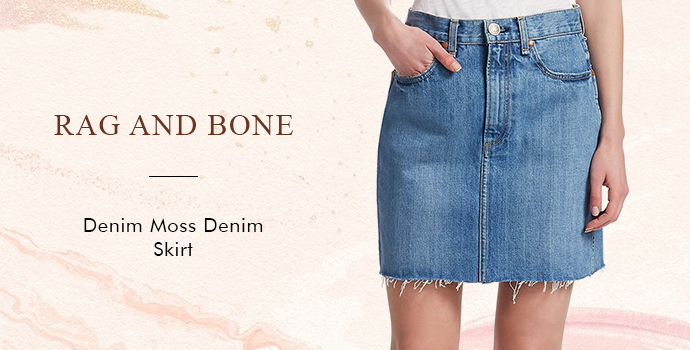 J. Crew is an American multi-brand offering various assortments ranging from clothes to accessories. However, a beautiful denim skirt outfit from J. Crew is the type of product that we are talking about here. Check out this impeccable denim mini skirt from J.Crew offering sits at the waist and a perfect fall above the knee.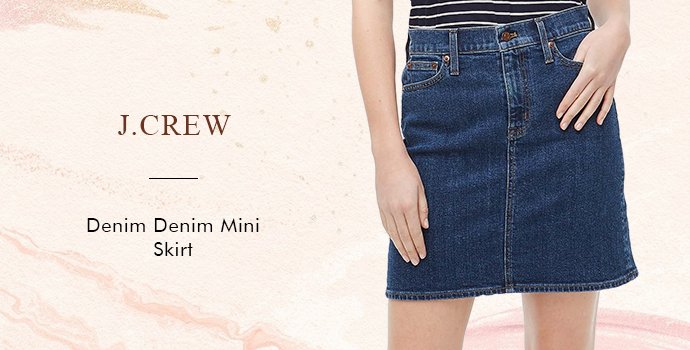 Quirky fashion never goes out of style. And as we address quirky fashion, Chiara Ferragni is the perfect stop for such fashion trends. To know what we're talking about, have a look at the blue denim skirt with flirting eye bands and a contrast rim by Chiara Ferragni.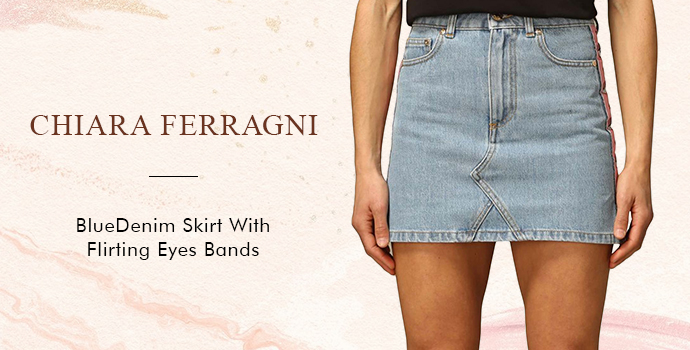 How can we not mention Diesel if it's all about denim skirt ideas? This brand offers an innovative lifestyle and a wide-ranging collection of denim products. To check out the classic collection provided by Diesel, have a look at this black denim skirt, a perfect fit for any body shape with front zip and zip pockets to take your look up a notch.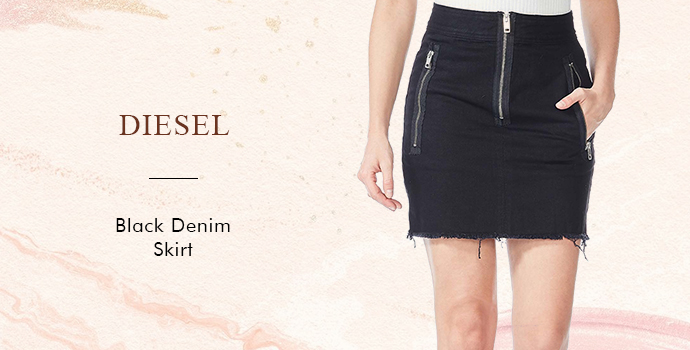 Effortlessly cute denim skirt style ideas
Add shade with contrast rim denim skirt
To start with the styling ideas, why not go ahead with something unique. A mini skirt will never go out of style, especially if it's the contrast-rim denim skirt. Pair up this style with a light-colored or a pastel polo t-shirt and white sneakers for a cute and cheery picnic look. However, you can style up the same with a white tucked-in shirt and ballet shoes for a casual lunch.
Fall fits with button-up topstitch denim skirt
This denim skirt is a perfect addition to your denim wardrobe collection. To complete your adorable daywear spring-fall look, pair this button-up topstitch denim skirt with a cute printed ribbed turtle neck top and lace-up sneakers.
Whites for the warm days
One can never go wrong with white and formal wear, especially when you style this white denim skirt with a black long puff-sleeved top and ideal black summer sandals. Nothing can beat your chic yet comfortable formal wear for meetings.
Beat the chills with long denim skirts
To steer away from the dapper world and enter the party mood, a long denim skirt is a perfect call. The trick here is to adorn this gorgeous long denim skirt with a low buttoned white shirt, a classy leather jacket, and heels. There's no other way to enhance your look effortlessly in no time.
Unconventional looks with colored denim skirts
Adding a touch of pastels is never the wrong call for a cute outfit. Mix and match a pastel mini denim skirt with a black loose-fit sweatshirt and thigh boots to walk into the fall fashion in style.
Flattering looks with slim fit denim skirts
Don't we all have days when we want to step out in style without any occasion? And when it is about stepping out in style, an all-denim look is forever. For an elegant and casual look, style up a knee-length slim-fit skirt with a lighter shade of tucked-in denim shirt and nude heels, and get ready to turn heads whenever you step out.
Accessorize your denim looks instantly
As we all know, denim skirts never go out of style, similarly, accessories never step back in taking your look to another level. Be it a party look or a formal workplace event, accessories are always your best companion for any event.
Formal looks
If we talk about office looks to start with, a neutral shade thin metal strap watch and mini stud earrings are a perfect go-to look for any day. With no extra time and effort required, you will always be ready for any last-minute meetings by looking perfectly presentable.
Party looks
A little bling will always be your breakthrough from the monotonous fashion when adorned on your beautiful wrists. Yes, we are talking about dazzling bracelets made available to us by multiple luxury brands. You can count on the multi-layered bracelets and the irresistible contemporary drop earrings to be an ultimate charmer wherever you go.
Casual looks
To attend a casual lunch with friends or a picnic with family, a light-colored belt and cute shades are an ideal match for your outfit. Pump up your cute fashion instantly, anywhere, and anytime.
Browse through various designers to add cuteness to your wardrobe, and prompt denim skirt outfit looks to your collection. Count on denim skirt outfit ideas for effortless looks all year round.